ONE OF THE TOP PLANT NURSERIES IN THE UK
GROWERS OF RARE & UNUSUAL PLANTS & SHRUBS
Mail Order Update
Our mail order department is now busy dispatching plants for your autumn plantings- the traditional time of year for planting trees and shrubs to get them settled in for the next season. Excellent selection of trees, fruit trees, trained fruit, shrubs and conifers.
If you order trees or anything taller than 1.5m you maybe contacted re carriage costs, they have not been built into the website as these orders have to be dealt with individually, they have to be volumized which is a manual calculation.
Please note our Winter Opening Hours…
From Wednesday 1st November 
The Nursery, Restaurant and Red Barn are OPEN to visit every day from 9am-4:30pm.
Unfortunately we do not allow dogs on site
OUR PLANTS -Although we have all the plants listed on our website they are not all on display at any one time. If you are looking for specific things please email in advance to make sure they are in the nursery.
Latest Exhibitors - red barn gallery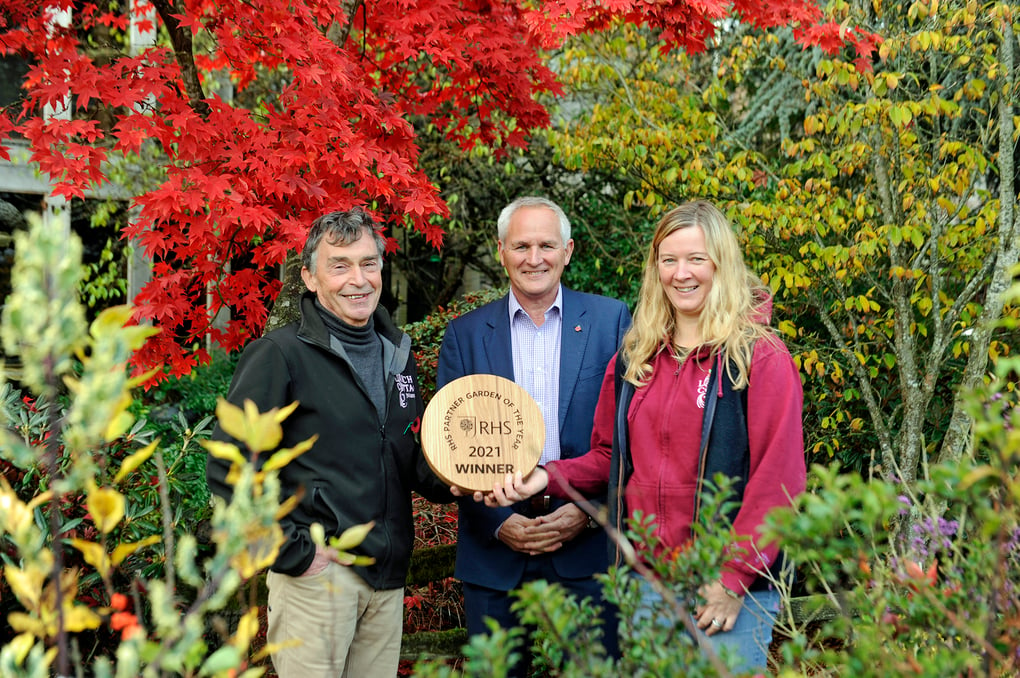 RHS Partner Garden of the Year
2021 Winner!
We are thrilled to announce that we have received the exciting news that we are the RHS Partner Award Winner 2021. It is our privilege and honour to be the first winners of this award. Click here to read more.
"Eccentric, comprehensive and unusual plants for sale, wonderful atmosphere. All created with love and expertise."
Larch Cottage Nurseries is one of those places where the name doesn't do it justice. Yes, it's a garden nursery but it's also so much more. The love and hard work that has been poured into creating it is self evident. Here is a place that will surely become a national treasure over time. Amazing.
This place is a total vibe, especially the Italian inspired restaurant La Casa Verde, where I tried a divine broccoli and Gruyere soup with sourdough. The garlic mushrooms with goats cheese on sourdough was also incredible. I only tried one mushroom as it was not from my plate but it was the best thing I have ever put it in my mouth.
July 23
Thanks very much for dealing with my order very efficiently - the box of 4 substantial plants arrived in perfect condition, with the box packed  carefully with a lot of TLC (and obvious expertise.) The choice of an alternative (due to one plant underperforming at the nursery) was generous and thoughtful. The plants are 'resting' in a sheltered spot (like any weary traveller) and will be set in their final positions over the BH weekend. Thanks again, Best Wishes for a highly successful year ahead.
April 2023
Hello, I received my order today. Just wanted to say a big thank you for the prompt delivery.  I have made numerous conifer purchase from your website and have always been so happy with the plants I receive.  You have the most wonderful collection of conifers,  just wish I had a bigger garden. Also just wanted to say that your website is always very up to date and detailed,  making purchases from Kent very easy. I visited you nursery last summer for the first time and will do so again this summer on holiday.  Looking forward to many more conifer purchases in the future, thank you.
March 2022
This is by far the most beautiful nursery I have ever visited. It's hard to believe that the hard landscaping hasn't been there for hundreds of years. And so well stocked, with exotic stuff as well as the more everyday, but all in beautiful condition. I shall add it to places I must visit every time I am in the Lakes. Just a stunning treat! Thank you and congratulations.
April 2023
Hi,
Just emailing to say how impressed I am with the plants I received on Friday. From despatch late on Thursday I was kept informed by APCovernight at every step right up to delivery (just before midday on Friday). The secure and stable packaging was far superior to anything I've had from other nurseries and the plants look incredibly healthy. They were planted within a few hours of arrival and I hope I can help them to continue to thrive.
Previous deliveries from other companies have included a magnolia in transit in July for over a week (black when it arrived) and plants with soil dislodged extensively due to not being kept upright.
Many thanks for your super service and quality
April 2023
Outstanding!
Visited here following recommendations from friends.
We were expecting a normal type of garden centre... We couldn't have been more of the mark! This nursery is packed full of plants, trees and garden features, each corner you turn there's a suprise! The owner has built many features that lead into different areas, if you didn't know you'd think they had been there for hundreds of years, the owner certainly has a creative imagination!
On Wednesday and Sunday's you can access the garden and chapel (the owner bulit that as well!) it's very sweet and has a lovely mural inside. The cost to enter the garden and chapel is £5 and all donations go to charity.
To finish of your mind boggling tours there is a comfortable cafe serving fresh locally sourced food.
To complete your visit there is a well stocked shop, that's if you have enough room in the car for all the plants you may have bought!
There is parking close to the nursery.
August 23
Hi,
Just got my delphiniums, thanks very much. I think the combination of bags, canes plus overnight delivery has worked very well, hardly even a bit of compost has moved! They're out in the sun, still in pots until tomorrow, enjoying a long drink of water. I hope they'll be happy alongside my maybe close to 20 year old pagan purples! Love them so much and the white's for a bit of contrast.
I appreciate your efforts to deliver these, thank you. 
Very happy gardening!
September 2022
If you love gardens/gardening, you'll love Larch Cottage Nurseries. Go there.
We visited on a Wednesday afternoon, when the private garden is also open for viewing, so we were able to enjoy both the garden and the Larch Cottage Nurseries. These were nurseries like no other we had ever visited before - a complete surprise. Wonderful, in fact. What a creative and imaginative setting! We absolutely loved the place. You'll have to visit yourself to see what I mean.
The private garden was attractive and in particular had a most unusual chapel, which we thought was both beautiful and fascinating. We completed our afternoon with tea and cake in the restaurant - sitting upstairs, where you feel as if you're in the tree tops.
A super place to visit. Go there.
June 23
Brilliant restaurant, fabulous gardens and a Zen-like feel
made this a wonderful visit. I'm no gardener, my wife is the green fingered one, so I normally have limited enthusiasm for nurseries, but this was just wonderful and I'd visit time and again (as long as lunch was included!) Highly recommended
Great food at a super plant nursery!
We have been to La Casa Verde restaurant several times before when on holiday in the past and we were looking forward to a return visit. We weren't disappointed and have, in fact, been twice this week.
The food is Mediterranean in style. On the first occasion we had shakshuka which was delicious. Today we enjoyed panzanella and tomato brushetta. Other people were having freshly made pizza which looked very good. Nice selection of cakes too if you just wanted coffee and something sweet.
We have had several meals in the area over the past few days and this, undoubtedly was the best in terms of variety, quality and value for money.
We ate outside on the veranda which was lovely as the weather was warm, overlooking the beautiful garden of the nursery.
The young staff were friendly, efficient and attentive.
Larch Cottage nursery is well stocked, beautifully laid out and has some more unusual plants. Staff are on hand to give advice if needed.
Altogether two very pleasant experiences. Thank you
June 23
Thank you.
I am really pleased with the plants, they are very good quality, and arrived within the 48 hours. Very good tracking. Expertly packed, so there would be no movement in the package. Would recommend your service - this is Mail Order plants done properly.
Best regards
April 2023
Thank you very much for the very speedy delivery of a  brilliantly packed and very healthy Fothergilla Gardenii shrub, which has just arrived. I have been looking for this particular shrub for a long time, and am delighted to have found Larch Cottage Nurseries - not too far from home, either. 
Thank you again - first class shrub and service!
November 2022
Hi there,
I am very happy with the quality of the plants I ordered and the ease of ordering. Thank you so much for getting the order together for it to be collected.
December 2022
A slice of heaven. Massive nursery and the most beautiful cafe. Surrounded by wisteria today....
May 2023
Thank you so much for my two Hamamelis Foxy Lady plants which arrived safely yesterday. They were really securely packaged and lovely healthy specimens. Thank you again for your brilliant mail order service. I have ordered this way previously and won't hesitate to do so in the future.
January 2023
Hello Larch Cottage Team,
Just to thank you very much indeed for your fabulous Wisteria 'Kimono'. It is such good quality - and travelled very well indeed having been so carefully packed. I'm really pleased!!
I'm just about to order some more plants from you!
Thanks so much to you all,
Best wishes for a truly excellent 2023.
February 2023
I first visited this garden centre about 7 years ago when visiting the area. I have been holidaying in the area again and decided to visit. I was not disappointed. There's the most wonderful range of plants, shrubs, trees and garden ornaments all set in a background of beautifully planted borders. Something for every keen gardener. The gardens gave a very tranquil feel about them. There's also a cafe/restaurant and an interiors shop. I would highly recommend a wander around here.
July 23
Hello,
My plants arrived this morning.     I am delighted with them.
They are good quality plants, look very healthy and were packed so well there was no damage. Something others could learn from.
Thank you once again.
May 2023
Thank you so much for my plant delivery they have arrived  in very good condition. Well done to who ever packed them.
April 2023
Dear Larch Cottage,
I would like to thank you for such good service !
I placed my order last week and i've just received it now - superb quality plants and packed with such consideration that i had to let you know how very pleased i am from start to finish.
I order quite a lot of plants online and the experiences aren't always good, however, the overall service from you has been perfect, couldn't wish for better.
Thank you,
Lots of choices from a large selection of quality plants. If you love gardening it's worth a visit as they have many plants you won't find in your normal garden center.
Also lots of planted areas so you can see the plants growing in situation which is helpful for seeing how they would look out of their pots!
Good cafe/ restaurant with some lovely views of the gardens.
July 23
Dear Friends at Larch Cottage,
My shrubs arrived today – the first day possible from the instructions I sent you. Not only are the shrubs of brilliant quality, with flower buds for next season already showing, but I am just astounded at the effort that had gone into your packaging.  The plants arrived in perfect condition. I will definitely want to order more plants from yourselves.